Our specialty is countertops so we take great care to assure that all aspects of our service meet your standards.
To do the job right, we:
Do on-site measurements to determine lengths, cuts and fitting requirements.
Confirm the integrity of existing cabinets to assure proper fitting.
Provide colour/pattern samples to help selection.
Provide an accurate quote including installation.
Install the countertops and assure satisfaction.
We are confident enough in our work to offer a 12-month guarantee on the labour and materials. If you have a problem, just call us.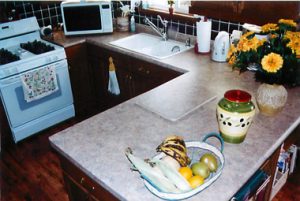 For the homeowner
We provide full-service from the initial measuring, to fabrication and on-site installation. This includes removing the existing countertops and disposal. When we do the entire job, we can provide you with a 12-month warranty on labour and materials.
For the do-it-yourselfer
If you are a home handyman and want to do the installation yourself, we'll build the countertops to your exact specifications and let you do the fitting and finishing. Proper cutting requires proper tools so be sure you have what's needed.
For the contractor
We can provide custom countertops to your specific requirements. We are able to work from builder's drawings and measurements and provide raw countertops which can be installed and finished by your team on site. We offer volume pricing on large orders.