Laminate countertops are our speciality.  Our material of choice is laminate from suppliers such as Formica, Arborite, Pionite, Wilsonart, Neyamar, and Lamitech. These companies offer a wide range of colour and pattern options to suit any décor. Each offers a durable, high-quality product that will last for years. A visit to their web sites will show dozens of installs and offer lots of design ideas.


Post Form
Factory-made countertops (also called Post Form) are one piece including the facing edge and back splash. This seamless design eliminates leaks and improves durability. It also simplifies the installation process as it is all one piece.
Countertops are manufactured in multiple lengths of: 4, 5, 6, 8, 10 and 12 feet and come with either a high 3″ – 3.5″ or low 1.375″ backsplash. The standard depth is 25.5″ to fit a standard 24″ cabinet. Smaller depths of 22″, 22,5″ and 23″ are available for vanities.
The laminate material is formatted over the face edge of the countertop and  is available in multiple contours. The options may vary with the type of material and the supplier. For peninsulas and islands there are several sizes of the bar top-style countertops with moulded profiles on both of the long edges.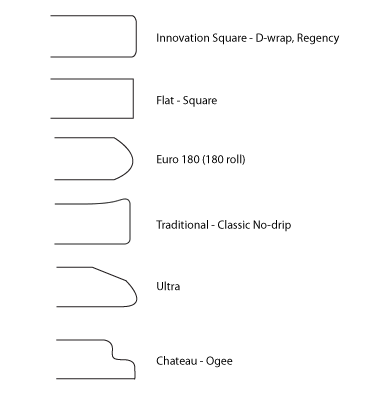 We cut and seam the material to allow for corners and joins.
Flat Work
When the size is non-standard, has several angles or an unusual shape, we custom make the countertop at our shop, a process called Flat Work.
To create these countertops we cut a wood substrate to suit the dimensions and requirements of your job. The laminate material is glued to the substrate. The panels are cut to required dimensions and edge trim applied. Holes for sink placement are usually completed by the installer on site because there are very limited tolerances. The back-splash is created as a separate piece and then glued to countertop, either in the shop or on site. The back-splash can be any height or omitted entirely if you are using tile or other material for this purpose.
Flat Work is also used when making table-tops, work services or other free-standing surfaces.
Typical Completion Times
Although the preparation of the countertops can require 2-3 weeks, once the cabinets are in place and final measurements can be made, the countertops can be ready for install within a few days. With other materials such as stone and marble, this part of the process can require 2-3 weeks. That's a long time to be without a usable kitchen or washroom.
Laminate – Colour & Style
Laminate countertops offer style, durability and are a very cost-effective alterative to such materials as stone and solid surface. The many "natural patterns" and gloss finishes offer the same look as much more expensive materials. One manufacturer has actually used digital photos of granite, marble and stone to create their "natural" look as exact as possible.
Laminate – Kitchen, Bathroom & Laundry
Laminate countertops are widely used in new homes in the kitchen, bathroom and laundry room where a serviceable, easy-to-care work surface is required. Laminate is also a popular choice in home remodeling projects where the wide range of colour choices and patterns make it easy to complement existing cabinetry. A variety of edge trimming and backsplash styles are also available.
Laminate – Office & Commercial Settings
Laminate can also be used in office settings  on worktables, reception stations and cabinets. The wide range of colours and style make it easy to incorporate into a specific colour palette either to "blend in" or contrast with other elements. The combination of lower cost and easy maintenance make it preferable to stone and granite. You can obtain the same look at a fraction of the the cost.
Planning Your Project – Key Considerations
There are several things to consider when selecting the colour and pattern for your countertop. With hundreds of colours and patterns to choose, the process isn't easy. To help with the selection, we can provide colour-chips and larger pieces you can take home.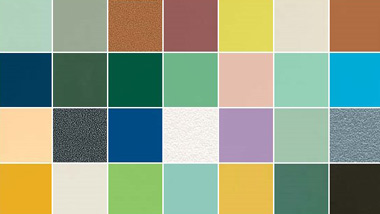 Is it to blend in to the surroundings or stand out from the background?
If the former, stick with neutral colours: variations of white, beige, cream and grey with small patterns if any at all. If you want the countertops to accent your colour scheme, look for strong colours and bold patterns using complementary tones or variations of existing colours.
Will it be seen from adjoining rooms?
Try to avoid colour clashes with the colours of adjoining rooms. If unsure, place a sample in viewing lines to see the effect. In some circumstances, you will want the visual contrast.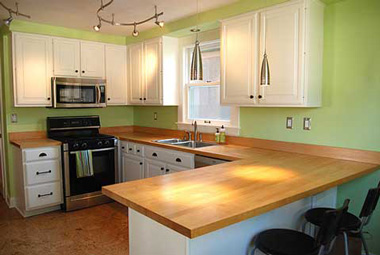 What about the cabinets?
The colour of cabinets has considerable influence on your choices for the countertop – neutral or white cabinets offer the most options. Natural wood cabinets do well with a strong accent colour and stone-look patterns.
How will it be used?
Laminate countertops are quite durable but require some protection from hard use. Use a cutting board when possible and heat protective pad for hot pots. Laminate countertops will stand up to years of normal wear-and-tear with a minor level of care. Surfaces are quite resistant to incidents such as dropped pots and dishes that can crack less-forgiving materials.